Throughout the world, the use of plastic materials within industrial processes has been migrating faster and faster, which is more evident in the chemical industry due to the exposure of corrosive substances, where plastic materials by its good resistance to chemical attack become preponderant however, it is important to know the characteristics of the substance that will be in contact with the material and the operating conditions to which it will be expressed, in order to be able to select the best option.
Manufacture of plastic tanks for the chemical industry:
In addition to those mentioned above, it is also essential to know the different methods of tank construction since we could think about processes such as rotational molding or plastic injection, in which, starting from molds, we could obtain containers and/or tanks in plastic materials, however, this requires a tremendous amount of production in pre-established dimensions that are not always suited to the needs of the process in question.
By discarding the containers that are on the market with pre-established dimensions, we have the possibility of manufacturing a custom tank with all the variants that it requires; both in containment volume and the operating conditions of the process itself; this is done Starting from semi-finished materials such as plates, tubes and manufacturing connections in thermoplastic materials, through the application of a welding process for their manufacture, thus achieving tanks, tanks, tubs or even furniture with the exclusive design for each application.
There is only one internationally recognized standard in the world, the German DVS, that in its section 2205 gives us a guide for the manufacture of containers through the plastic welding process, which, when fully complied with, provides us with the certainty of obtaining a final product that will guarantee its operation in the longest possible useful life, a standard on which the engineering of the container design must be based, but also have the certainty that the equipment and materials selected could meet the requirements of this rule.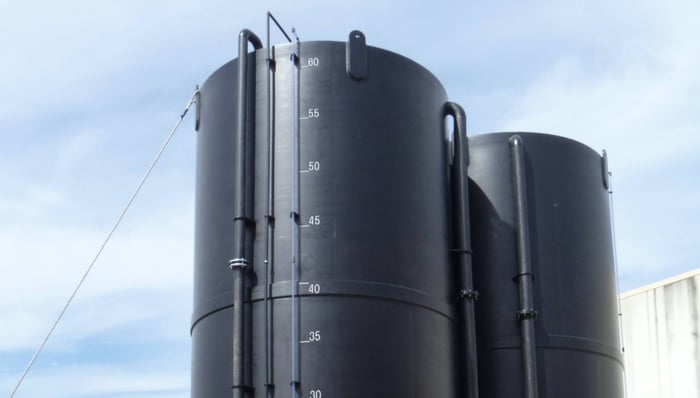 Read also How can LDM help you in your plastic tank manufacturing?
At LDM® we develop a series of articles where you can find information about:
References:
Röchling. (2018). Fabricación de alto rendimiento para la construcción de depósitos e instalaciones químicas.
Leister. (2021, abril). Catálogo general - soldadura de plásticos.
CESLA. (2019). Manual básico de soldadura plástica. CESLA - Centro de soldadura plástica.