One of the main objectives in LDM is always to offer products of the best quality and innovation. That is why today, throughout this article, we will introduce you to a new product that has been into our catalog.
We are talking about Paneltim sandwich-type plastic sheets, which can be defined with three basic concepts: light, robust, clean. Although in Europ, it is a recognized product thanks to its characteristics that make it an ideal material for multiple applications, in Mexico and Latin America, the advantages within the industry are still unknown.
Paneltim is located in Belgium and is a worldwide specialist in the manufacture of sandwich panels with thermoplastic materials such as polypropylene copolymer and high-density polyethylene (HDPE), whose advantages are that they are very light and more robust than most. Of the panels on the market for plastic construction applications. In addition to being very resistant to most chemical products, it is very easy to weld, so they are suitable for construction welding.
Please get to know our offer of plates for plastic tanks.
The panels come in 3 different thicknesses: 20mm, 35mm, or 50mm with a hollow sandwich structure whose cellular composition of 50x50mm or 50x100mm makes them very rigid and strong both lengthwise and widthwise, thus facilitating structural development requiring less reinforcement compared to solid panels. Its hollow cellular structure provides an airtight chamber that, together with the thermoplastic material of the panels, provides an excellent thermal insulation value.

Thanks to the structure and profiles available, it is possible to keep all the cells sealed, preventing the penetration of water or other substances, facilitating their cleaning, giving it the hygienic property required by various applications; however, the materials with which they are manufactured allow their 100% recycling, preserving the value of the raw material, which helps to care for the environment.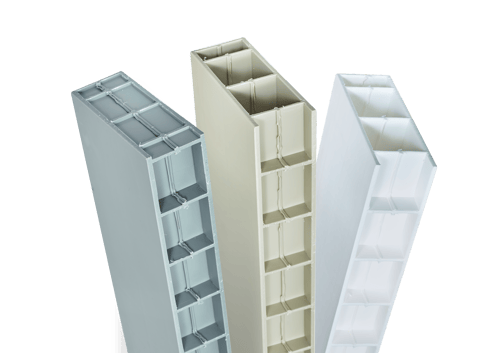 Plastic panels available

Paneltim offers many options in terms of colors, quality, loads, presentations, etc.
Colors: Black, White, Gray, Blue, Green, Beige
Qualities: Prime, Near to prime, Recycled
Finishes: Smooth or non-slip
Additives: UV stabilized, Fire retardant, Fiberglass reinforcement
Presentations: 800x1200 mm / 1000x1200 mm / -1000x2600
Equipment for welding plastic sandwich panels
It is possible that after learning about the variety of Paneltim panel presentations, you are wondering, what equipment can I use to handle this material? Well, here we also answer this question.
Ingenia®
has an ideal butt thermofusion equipment to lengthen to the extent you need.
See S-hand thermofusion equipment.
This butt welding machine allows working with solid plates of thermoplastic materials up to 20 mm thick; however, it is adapted with an 80 mm wide heating plate to work with hollow plates of 50 mm thick (maximum of plates Paneltim). In addition to welding a length of plates of up to 20 mm, which allows the production of panels up to 2 meters high in the length necessary for the construction project to be developed.
What applications can I make with sandwich-type plastic panels?
| | |
| --- | --- |
| Chemical storage tanks and side supports | |
| Lids for cylindrical or rectangular tanks | |
| | |
| Wastewater treatment plants | |
| Grease traps for water treatment | |
| | |
| Gas extraction and scrubbing systems | |
| | |
| Construction of warehouses and offices | |
| Furniture and public toilets | |
| Fixed and mobile boxes and containers | |
| Non-slip floors and stairs | |
¿Tienes dudas? Contacta a uno de nuestros expertos y solicita más información